July 7, 2020
&nbsp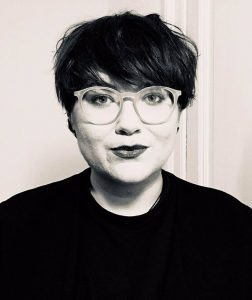 Hélène Mariaud,
Executive Committee Member
The European Students' Union (ESU)
The European Students' Union (ESU) is the umbrella organisation representing almost 20 million students in Europe. The aim of ESU is to represent and promote the educational, social, economic and cultural interests of students at the European level. Interviewee Hélène Mariaud, Executive Committee member,  tells us about the importance of #Erasmus500 and her views on the current inequalities of the Higher Education and Erasmus grant system.
Hello and thank you for taking the time to give us some insights into the initiative. Firstly, tell us why you think Erasmus is so important for European students!
The ERASMUS programme is very important for  European students, as it – among other things – gives a the chance of an experience abroad. 
The idea of such an experience is already attractive in itself for most young Europeans, but it is also an appreciable opportunity to learn another language and discover a country and its culture.
The programme is also an investment in education and culture, as well as generations with a truly European feeling, willing to discover other cultures and other ways of life.
The COVID-19 pandemic has disrupted several Erasmus+ activities and mobilities. Do you think Erasmus500 is still relevant?
It is undeniable that the COVID-19 pandemic has put a strain on mobility and lead to critical situations for many students abroad: the uncertainty of their housing solutions, the lack of financial resources, the reduced access to the digital tools required to follow their classes and the difficulties linked to the return back home.
However, instead of making initiative linked to mobility – the Erasmus500 campaign included – the crisis showcased the areas and issues that would need to be focused on in the coming months and years. For instance, undeniably blended mobility will be a hot topic in the near future (and already is), as well as hybrid solutions for mobility periods. In this regard, what the pandemic showed is that digital tools are neither accessible enough to all, nor are they well-functioning in many cases.
The COVID-19 crisis also did not erase inequalities in terms of accessibility to higher education and mobility, and rather increased them in a way. Knowing that the Erasmus Programme was already not inclusive enough, and unfortunately more than often reserved for students who were already privileged, the Erasmus500 campaign still keeps its meaning, and becomes even more relevant as inequalities have risen.
In your eyes, what are the limitations of the current grant allocation mechanism?
The current system has many limitations: the overall lack of funding disadvantaged students from backgrounds that are already underrepresented in higher education and in mobility (for instance, students with disabilities), the same lack of relevant funding also causes inequalities among participants and do not guarantee a sufficient income for students to sustain themselves during their mobility period, leading to a situation where students who are already more privileged are mostly the only ones accessing mobility. In addition, the current system is very complicated which makes it even less accessible.
What do you personally think will change with the #Erasmus500 grant?
The Erasmus500 grant would change the reality of many students. Indeed, a basic income of 500 euros per month would allow a bigger segment of the student population to access mobility at all, as financial barriers are currently keeping the less privileged out.
A simpler system will also allow for more inclusivity as it will become more accessible and more easily understandable for most, changing the mindset while showing that participating in mobility can be an opportunity.
In your opinion, why is a fairer grant system important for both universities and students?
A grant system that guarantees a minimum income for students, hence allowing them to at least sustain themselves, is important in order to have higher education systems and mobility programmes that are truly accessible to all, which is not the case the moment. This does not mean that any kind of top-up or other grant need to be erased – on the contrary, it means that there is at least a grant secured.
Such an initiative is also important for universities: education is a public good and should be accessible to all. With Erasmus500 grant, students from more diverse backgrounds will be able to participate in mobility. Universities will welcome students from more varied paths and will benefit from this mix of experiences, while becoming more and more open and inclusive.
From your point of view, what do you expect to get out of the Erasmus500 campaign? What would be the long-term effects on the European Higher Education Area?
The Erasmus500 campaign reaching its goal would not only mean that such a universal mobility grant would be secured, but also that mobility as a whole would become more accessible to more students. It would encourage a wider range of students to experience a period abroad, with all the benefits that stem from it.
More generally, the long-term effects for the EHEA would be more inclusive higher education systems, as such a success for the campaign would normalize the issue of sufficient grants and bring it to the general discourse. It would also show that mobility is essential, taken into account, and that it can be accessed by all.
Why do you think it matters for students or student organisations to support this campaign? How can they make a difference?
Student organisations can only benefit from supporting the campaign. Indeed, that way they would integrate themselves fully in the debate on inclusive mobility and for an accessible higher education. It can also help them showcase their specific positions on the social dimension of higher education as well as on internationalisation.